Aries customer, Ace Pipe Cleaning uses Aries inspection and rehabilitation equipment to complete key underground infrastructure projects for Joplin, MO. Joplin's efforts to address their underground infrastructure were initially kicked off as part of their recovery efforts after a 2011 tornado wreaked havoc in their community. This month's issue of Trenchless Technology Magazine takes a closer look at Ace Pipe's ongoing efforts in Joplin.
Below is a re-print of the April 2020 article as it appears in Trenchless Technology Magazine.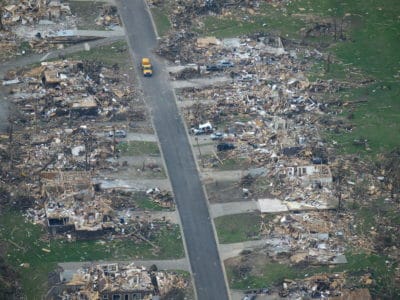 On Sunday, May 22 2011, Joplin Missouri was hit by an EF5 tornado with winds topping 200MPH. It claimed 161 lives and left behind a swath of devastated homes, businesses, and infrastructure. It is estimated, (based on insurance pay outs) that the total cost of damage was $2.8 billion, the costliest in U.S. history.1 While there was extensive damage above ground, the debris that was forced into the underground infrastructure also caused substantial issues.
As the full extent of the overall damage was assessed and federal funds were made available, Joplin took a long-view approach to the repairs needed for their underground infrastructure. There was an initial project put together to specifically address the areas affected by the tornado, but that led to many other projects once the impact was fully determined.  The city staff drafted a 10-year Bypass Elimination Plan that included cleaning and evaluating the entire collection system, as well as repairing defects. The plan also includes an annual rehabilitation plan aimed at reducing sewer line collapses, reducing inflow and infiltration of storm water, and increasing the reliability of the system.2 RFPs were solicited for this menu-style contract according to the city's standard procurement policies.
Ace Pipe Cleaning, Inc., based in Kansas City, Missouri won the initial and all subsequent contract renewals to provide the evaluation and rehabilitation of Joplin's wastewater collection system.  Ace is a part of the Carylon Corporation, which offers specialized services throughout the USA in sewer system maintenance, water supply maintenance and soil/sludge remediation to maintain critical environmental infrastructure.
Assessing 50K of Sewer Lines with Aries Inspection Equipment
As part of this overall effort, Ace was recently tasked with televising and cleaning the East Highlands basin, which encompassed nearly 50,000-feet of 8-inch to 12-inch diameter sewer lines. This project came with its fair share of challenges, including having one of the busiest streets in Joplin within the footprint. Another complication, which underscores the reason Joplin is addressing their underground infrastructure, is the high level of inflow and infiltration in the sewer mains. This causes a lot more flow and volume of water to deal with during inspection and rehabilitation of the pipes. Ace Pipe Cleaning leveraged their fleet of CCTV vehicles, including Aries Industries' Mainline Sewer Television System to inspect the sewer lines and identify areas needing maintenance.
Ace Puts its New Electric Cutter, Aries Wolverine 2.0® to Work 
During the evaluation, further complications arose. Joplin, MO has high mineral content in their soil and when the groundwater leaks into sewers, calcium deposits can develop. Such was the case for several of the sewer joints, where encrustations and calcium deposits were impeding flow. Ace needed to grind these deposits off as part of their rehabilitation of the sewer pipelines.
In the fall of 2019, Ace Pipe Cleaning acquired a new electric cutter, Wolverine 2.0®, from Aries Industries and brought it in to complete the grinding of the calcium deposits. There was a specific advantage on this project to having an electric cutter rather than an air- or water-powered cutter. In this project, the high level of inflow and infiltration already presented visibility challenges and a lot of water and flow to cope with. As the cutter grinds and spins at a high rate of speed, the additional spray of water can impede visibility. With air- or water-powered cutters, that issue is made worse because the exhaust air or return water causes even more water to get thrown around.  This additional spray was not an issue with Aries Wolverine 2.0®, which helped improve the visibility during the grinding process.
For the actual grinding of the deposits, Ace used a Kardiam™ cutting head and low-profile grit tires on the cutter to navigate the 8" diameter pipes.  
 "I was glad to have the Wolverine 2.0 for this job because we needed a cutter that could get around obstacles caused by deteriorated concrete pipe and even some completely missing sections of pipe. Wolverine 2.0 was able to get on target quickly, in spite of the pipe conditions," said Ryan Poertner, General Manager / Trenchless Rehab Division. 

Poertner continued, "Toward the end of the project a mainline camera flipped over during an inspection and became completely stuck on an offset joint while being pulled back to the truck.  Instead of having to dig up the camera, we were able to utilize the cutter to push the camera forward and then grind down the offset and retrieve the camera without excavation.  It took some time and creativity to accomplish, but saved an expensive dig."
Joplin, MO Prioritizes Evaluating & Repairing Underground Infrastructure
Joplin's investment in evaluating and repairing their underground infrastructure continues to be a priority for the city.  Just recently, the city's website mentioned its efforts to address the condition of sewer lines. From the Joplin, MO website3:
During the past few years, the City has been identifying infiltration and inflow into the sanitary sewer system and working with sewer contractors to identify these gaps in both city and residential lines. Breaks in the lines and uncapped pipes allow stormwater into the system and increases the amount of water being treated by the system.
"It is much more efficient to eliminate unnecessary stormwater flow into the treatment process, so the wastewater plant is not treating non-sanitary sewer waste," said Public Works Director, David Hertzberg.
What began as an effort to mitigate the effects of a disaster has evolved into an admirable ongoing effort to ensure that city's 420+ miles of sewer pipe are safe and efficient for residents.
Read Article in Trenchless Technology Magazine
Connect with Aries to learn more about our inspection and rehabilitation equipment.