"Wolverine size and profile is much smaller and when Aries states it works in 6" pipe it does. Much lighter and easier to maneuver."

"Quiet operation is great for residential neighborhoods and night work."

"The reel and tractor controller at the back of the truck attached to the reel helped set up times and communicating issues between operators."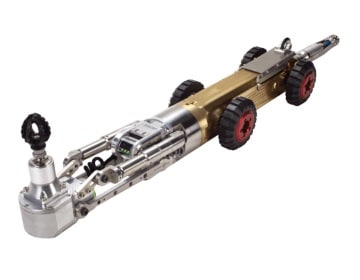 Cut through challenging material rapidly and accurately with our self-propelled, electric cutter, Wolverine 2.0.
Its advanced controls and cutting power allow you to complete lateral re-instatements or pre-lining prep work in 6″-18″ diameter pipes.
The Wolverine 2.0 Cutting System is a vehicle-mounted system designed and built at Aries US-based plant with stainless steel and brass construction and integrated electrical cabling.
Powerful &
Precise Cutting

Advanced
Operator Control

Maximum
Uptime

All-wheel drive and compact profile to navigate challenging pipe conditions
Infinitely adjustable speed and axis movement for precision cutting
Stabilizing lift ensures balanced operation

Fingertip control for outstanding ergonomics
Dual joystick allows for accurate cutting head positioning
Multiple wheel configurations to match pipe conditions

Quick truck set up and tear down
In-the-pipe lens cleaning
technology
Easily accessible replacement
parts