A Proactive Approach to Inspecting and Rehabilitating Service Laterals Reaps Benefits for ECUA
Have you ever dug your toes into the fine, white, soft sand of a Florida beach and thought, "This stuff must really wreak havoc on the lateral pipes in this town?" Probably not, but that is nonetheless a fact of life in areas like Pensacola, Florida.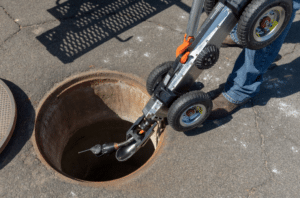 Thankfully, the sewer provider for Pensacola is the Emerald Coast Utilities Authority (ECUA) and since 2014 they have taken a long-term, proactive approach to dealing with the issues of inflow and infiltration in both main lines and service laterals. ECUA has a collection system of 1,225 miles of sewer lines that service over 70,000 customers. Some of these sewer lines are 100+ years old, which makes it one of the oldest sewage collection systems in the state of Florida.  With aging pipes, there is an increased need to address cracks, root intrusion, and joint issues that compromise the integrity of both main lines and service laterals and the area above and around that piping.
In addition to the age of the sewage collection system, the environment of Pensacola contributes to the issue of I & I. The powdery sand that draws thousands of tourists to their beaches also finds its way into the pipes, causing joint failures and faulty connections. Because some areas of Pensacola are influenced by the tides, ground conditions fluctuate. High tide brings with it sand and other debris that can then end up compromising the sewage collection system.
A further environmental challenge is precipitation levels. Florida gets more than its fair share of rain annually (ranking fifth in the U.S. in annual rainfall). Pensacola can experience significant precipitation in short timeframes because of heavy storm activity on the coast. For example, the city experienced over 20 inches of rain in a 24-hour period in 2014. These types of conditions are one reason ECUA takes a comprehensive approach in addressing the maintenance and repair of their service laterals.
Municipalities often only focus on mainlines for infiltration reduction, but service laterals are also a major source of I/I. In fact, ECUA conducted flow monitoring prior to Cured-in-Place-Pipe (CIPP) mainline rehabilitation in the downtown Pensacola area. Flow monitoring conducted by ECUA proved that while flows were reduced after mainline CIPP rehabilitation, there was still a significant opportunity to further reduce extraneous flows by addressing the service laterals.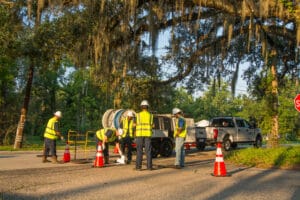 ECUA has contracted with BLD Services, LLC from Kenner, Louisiana since 2014 to clean, inspect and rehabilitate service laterals through CIPP lining. BLD is the largest lateral contractor in the US with 30+ crews in 14 locations across the Eastern portion of the United States.  BLD relies on vacuum trucks and trailer jets for cleaning the pipes and Aries Industries CCTV lateral inspection vehicles equipped with LETS 6.0 system to capture detailed video of the pipe condition. From the mainline, the crew is able to launch the Aries LETS6.0 lateral camera (with or against the flow) to identify and report issues within the laterals that need to be remedied. The BLD "Service Connection Seal + Lateral" is used to complete the CIPP lining work necessary to restore the integrity of the pipes. Once cured, the Aries LETS 6.0 system is deployed again to inspect the lining and ensure the integrity of all the joints. BLD has one fulltime crew dedicated to the lateral work in Pensacola, with an additional 2-3 crews brought in as needed. To date, BLD has inspected more than 5,000 laterals and of those has rehabilitated more than 4,000. In some areas of ECUA's collection system, the BLD lateral lining system has now been in service for more than 10 years.
"ECUA deserves a lot of credit for being proactive and not waiting for something catastrophic before rehabilitating their system. They take a very comprehensive approach. Due to funding constraints, many municipalities will only address the worst laterals. Out of 300 service laterals they may only inspect 100 and rehab fewer than that. ECUA is committed to being thorough by inspecting every single lateral neighborhood-by-neighborhood. It pays off for them in unexpected savings," according to Jacob Trapani, Vice President of BLD Services.
ECUA's approach has reaped long term financial benefits. Reduction in energy costs for pump stations, which are a critical component of a complex system in a flat coastal terrain like Pensacola, plus savings in sewer treatment have all been outcomes of the ongoing effort to reduce the I & I in service laterals. An added benefit is the reduction in complaints from residents regarding sewer overflow or drainage issues!
Continue Reading  in Trenchless Technology Magazine >>
Learn more about the mainline and lateral inspection and rehabilitation equipment that Aries Industries offers: