For some, retirement looks like taking up a hobby, spending time on the golf course or relaxing in exotic locales. For others, it looks like enjoying the time off for about six months and then deciding to start a company. This was the case for John Brule, who after years owning and operating two successful contracting companies (SewerMatic and Clean Water Works) decided to retire. It turns out it was not so easy to turn off his entrepreneurial instincts. He founded JD Brule Equipment, based in Greely, Ontario in May 2019 with three employees. This time, John chose to enter the industry not as a contractor, but as a supplier of full-service heavy equipment, specializing in hydrovac trucks and sewer combination cleaners.
JD Brule Equipment Experiences Immediate Growth
Within a few months of opening their doors, JD Brule hired several mechanics, followed by their first "official" sales representative. As the business thrived, they expanded the service staff again and even started a night shift to accommodate customer demand.
Selecting a Manufacturer of CCTV/Sewer Inspection Equipment
In 2020, JD Brule began exploring options for becoming a dealer of CCTV sewer inspection equipment and vehicles. Initially, it was assumed they would choose an Aries Industries competitor's equipment, which their team had used for many years as contractors. However, now as a supplier of equipment, they had become more aware of other brands of equipment and opportunities.
JD Brule Equipment Joins Aries Industries Dealer Network
After researching and demoing sewer inspection equipment from several providers, JD Brule chose to join the Aries Industries dealer network in July 2020. Shortly after joining the Aries dealer network, JD Brule opened up a manufacturing area and expanded their service and sales teams.
"We selected Aries because they have strong brand awareness, very durable pipeline inspection equipment and they were growing their footprint in our market. We also had a strong relationship with Chris Schneider, Aries Canada Senior Field Specialist," according to Bill Woods, JD Brule Vice President.
Dealer Onboarding During Covid Restrictions
Establishing the relationship with Aries during Covid when travel restrictions were in full force came with challenges. However, having experienced Aries staff based in Canada made all the difference.
"We were able to meet with Chris, who knows Aries products really well," said Bill. "So, while we couldn't come to the Aries facility in Waukesha, Wisconsin in person to see the plant, we leaned on Chris and our own history of using sewer inspection equipment to get up and running quickly as a dealer."
JD Brule sells the full suite of Aries Industries equipment, including the Pathfinder Mainline Inspection System, Mobile Pathfinder System, Lateral Inspection System – LETS 6.0, Wolverine 2.0 Electric Robotic Cutting System, and legacy equipment. Their service center is equipped and staff have the training and experience to repair Aries equipment as needed for their customers.
A Win-Win Partnership Between Aries Industries and JD Brule Equipment
As a new business breaking into an established supplier market in Canada, JD Brule knew their differentiator would be how they treat their customers. It's a philosophy that aligns well with Aries' focus on delivering the best customer experience.
"Our motto is always to serve the customer.  As long as we do that, they will trust us and come back and feel good about buying equipment from us.  It's our competitive advantage, "according to Woods  "Aries talks about their business the same way. Working together aligns really well. Their model is that it is not about Aries; it's about their "WE Culture" of employees, suppliers and their dealers. They have been caring, compassionate and really supportive. They are one of our favorite manufacturers to work with."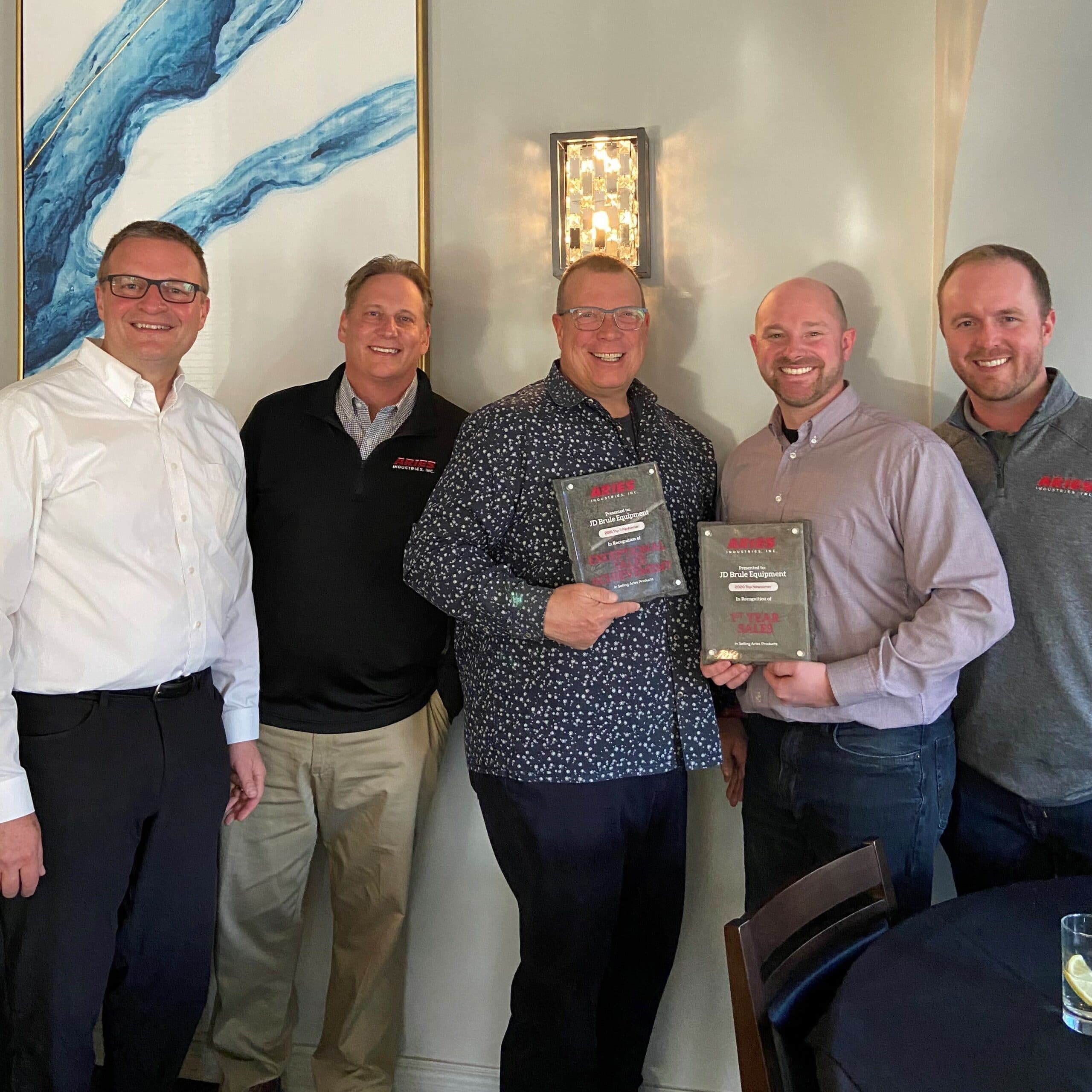 The relationship has been win-win for both Aries and JD Brule. Since joining the Aries dealer network, JD Brule has earned two dealer awards. The first came in 2020 as "Newcomer of the Year" and the second for 2021 "Top Three Performer."
Get to Know More About JD Brule Equipment
JD Brule Equipment supplies equipment from six different manufacturers in the hydrovac and sewer inspection domain. These include Aries Industries, Tornado Global Hydrovac, Gap Vax, Harben, Multihog, and Odra. The company employs 20+ people across sales, admin, manufacturing and service. Based in Ottawa, with a sales office in Montreal, JD Brule is looking to expand its reach even further to markets in Montreal and Toronto.