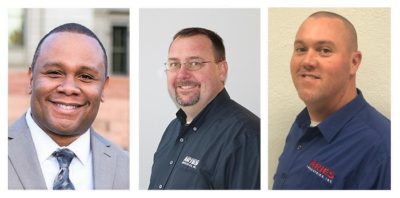 Waukesha, Wis. – Aries Industries, the industry leader in state-of-the-art equipment for inspection and maintenance of underground infrastructure, has strengthened its market outreach with a significant promotion and two new employees.
John Kudis, formerly Northeast Regional Sales Manager, has been promoted to the new position of National Accounts Manager. Kevin Hastings has rejoined the company as Western Regional Sales Manager. Boris Holmes has been hired as the company's first-ever Rocky Mountain Regional Sales Manager.
Aries Industries manufactures inspection systems, rehabilitation equipment and data management software used by underground infrastructure professionals to maximize productivity. Serving the utility, water, energy and mining sectors, Aries Industries designs and develops equipment that keeps municipal infrastructure functioning, and enables critical industries that power America to operate at peak efficiency.
"These personnel changes position our company for continued sales growth and further improvement in customer experience," said Larry Brown, President and CEO of Aries Industries. "A great team leads to great success. We're thrilled to have these talented professionals on board during a time of tremendous market opportunity."
John Kudis has 15 years of experience at Aries Industries, during which he built a network of strong customer relationships across the northeastern U.S. market. His new role as National Accounts Manager focuses on business development with large contractors, and supporting the growth of existing large contractor accounts.
Kevin Hastings rejoins Aries Industries as Western Regional Sales Manager, bringing 13 years of broad-based knowledge in the underground inspection industry. He has extensive hands-on experience, having started his career as a service technician and gradually adding responsibilities for product training, as well as sales and management duties. His background encompasses both the manufacturing and contractor side of the industry, plus certification by the National Association of Sewer Service Companies (NASSCO). Hastings is based in Aries Industries' Fresno, CA, office.
Boris Holmes brings more than two decades experience in national accounts management to his role as Rocky Mountain Regional Sales Manager. He comes to Aries Industries from Master's Transportation in Denver, where he guided significant growth in revenue and office openings as regional sales manager. His background includes sales and management for two multi-location national engineering firms, plus a national provider of heavy equipment and tools, providing a significant knowledge base to serve Aries Industries' customers. He holds a B.S. in mechanical engineering from Western University in London, Ontario.
Founded in 1985, Aries Industries is the industry leader in manufacturing durable video pipeline inspection and rehabilitation systems that meet the toughest challenges of underground infrastructure and environmental applications. Focused on "Raising the Bar Underground," the company's cameras, tractors and fully-integrated systems are built upon a bedrock of continuous innovation, reliability and expert customer service. More information is available at ariesindustries.com or by calling (800) 234-7205