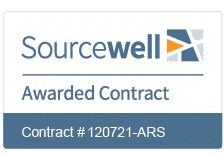 We are pleased to announce that Aries Industries now has a Sourcewell awarded contract. With this contract, it is easier than ever for municipalities to procure Aries sewer inspection equipment. To be awarded a Sourcewell contract, our team successfully completed a rigorous RFP process that meets or exceeds local procurement requirements.
What is Sourcewell?
Sourcewell is a self-sustaining government organization offering a cooperative purchasing program to government, education, and nonprofit entities throughout North America. By utilizing Sourcewell contracts, municipalities can save time and money by capturing the buying power of more than 50,000 organizations.
Benefits of a Sourcewell Awarded Contract for Municipalities
Why use Sourcewell to procure our innovative sewer inspection products?
• Simplifies the bidding process.
• Accelerates procurement.
• Minimizes administrative tasks.
• Lowers prices.
How to Procure Aries Equipment via Sourcewell
To take advantage of purchasing Aries equipment through our Sourcewell contract, you follow a simple two-step process:
Register as a Sourcewell participating agency
Schools, universities, nonprofits, and government agencies can quickly and easily register to participate for free. There are no fees to use our contracts, no commitment, and no obligation to purchase—and the online registration takes just a few minutes.
Contact Aries Industries for a quote using our contract number (120721-ARS) and your Sourcewell account information.
Learn more about the Aries Industries equipment municipalities can easily acquire through Sourcewell.